Are you a gamer?
If "yes,".
Then you must have heard about "Cyberpunk 2077".
If "not,".
Then don't feel out of this world. Because we are here to tell you.
So after hearing "Cyberpunk 2077", a question surely pops into your mind: "what is it?"
So have a seat because we are going to dive into it.
"Cyberpunk 2077" is an action role-playing game which was developed in 2020 by CD Projekt Red.
So now you will be wondering, why is it so famous?
It is because of the science fiction game's theme and the jackets of its characters.
What Is The Art And Theme Of Cyberpunk 2077: Science-fiction
So what is science fiction?
It's a genre which deals with the impact of advanced science and technology on humans, but it's an imaginative concept.
Moreover, the theme of Cyberpunk 2077 is based on Sci-fi concepts like flying cars, futuristic land, lights, robots and darkness.
But why are people inspired by it?
Because it shows the characteristics of high technology, where humans are connected with machines, that's not it; in that game, humans can become superhumans, too, which amazes gamers.
For futuristic feels, this game uses contrast and neon colors like gray, blue, black, purple and many more.
But the story didn't end here; this game not only inspires people but also enters the fashion industry too. Designers are now using cyberpunk themes for winter collections and launching bright and neon-colored stuff. Gamers have become a fan of this game's jackets.
Let's have a look at the cyberpunk jackets Collection and see why.
Gamer's Favorite: A View Of Cyberpunk 2077 Inspired Jackets
The most common types of jackets that are used in this game are leather and bomber. Every upper represents a particular character in Cyberpunk 2077, and the theme of the dresses is the same as the vibe of the game.
Samurai Bomber Jacket
These jackets contain the samurai's skull logo at the back, while patches are also used to compose it.
Moreover, it has a lot of pockets and zips to carry things. The collar of this cyberpunk 2077 samurai jacket is coloured neon blue to showcase the theme.
Edge Runners David Red And Black Jacket
This jacket is made with a fusion of black and red color. The cotton polyester material is used to create it.
The features that grab the attention of gamers are the front is buttoned, long sleeves; hem cuffs are opened, and lapel style collar. It has two pockets as well.
Second Conflict Flight Bomber Jacket
A bomber jacket that contains the logo of Kerry Eurodyne's Second Conflict. The logo was a part of promotional merchandise. The red colour is used for this jacket.
Akira Capsule Jacket:
A red colored jacket, with a patch stitched at the back, represents a capsule and a quote saying "good for health and bad for education." It has a zipper front and two side pockets. It has an urbane strap collar too.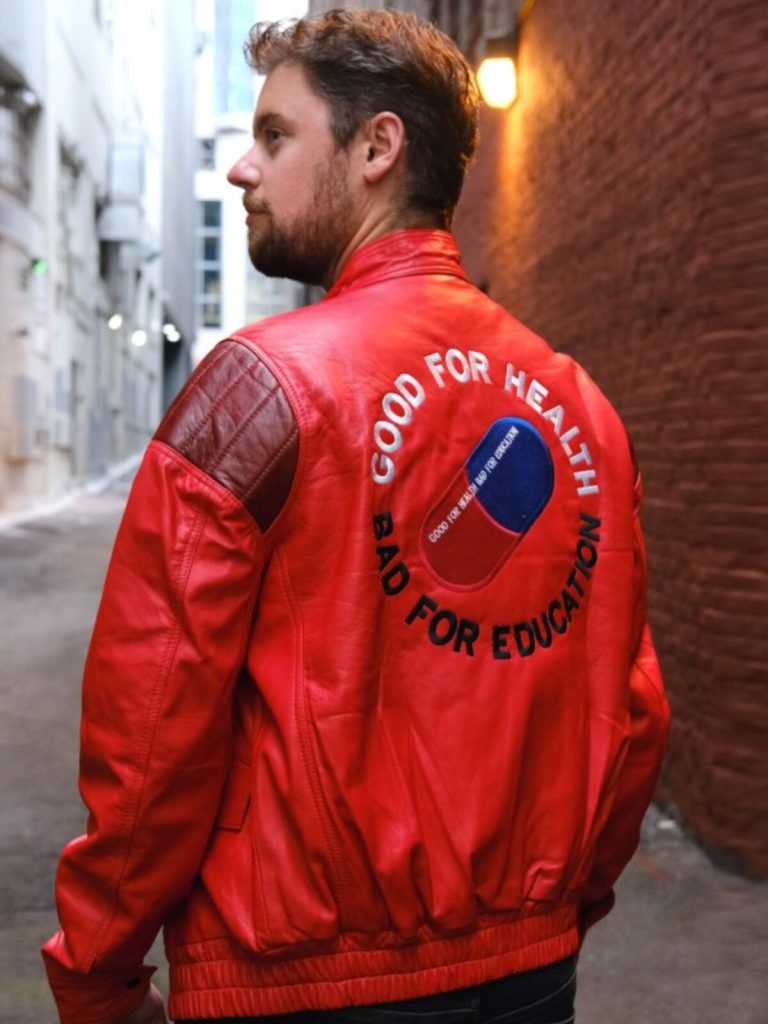 Stints Jacket:
Stint is the NCPD officer in the game. He wears a leather jacket with a hood. The jacket is a zipper one with long sleeves. The cuffs are open-hem type. The color of this jacket is black with orange stripes on the sleeves. And there was an NCPD tag on one side of the chest, and the other side contained a badge.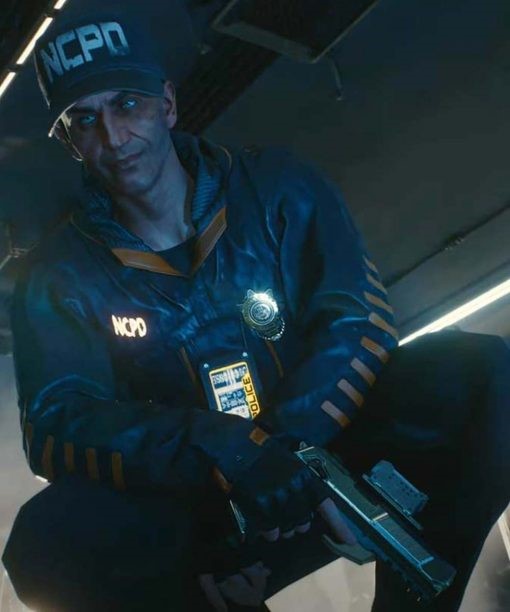 Kirk Sawyer Jacket:
It's a green and gray bomber jacket. This one contains two side pockets and a front open style with long sleeves. The green color represents the neon effect of the game theme.
Kira Madroxx Jacket:
Kira is an impressive player in the game, but her dressing style also attracts fans. The pink and purple combination gives this cropped jacket a girl look that catches the eye. It is made up of leather, and with a stand-up collar, it looks chic. The sleeves are the size of three-quarters with elastic cuffs. The front of the jacket is a zipper. This one gives an exotic look.
Ciri Jacket:
These real leather jackets look ironic because of their crop top style. The combination of black and neon gives an aesthetic vibe. It has a stand-up collar and a zipper front.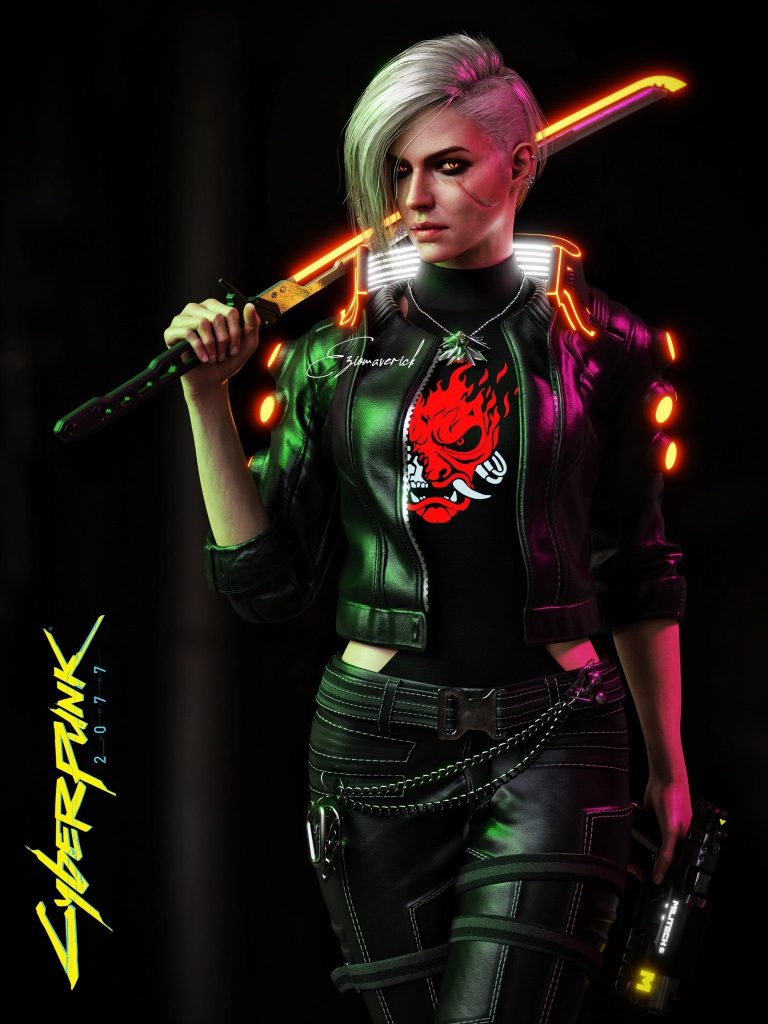 Zane Devon Leather Jacket:
This character gives a Dracula vibe, wearing a black leather jacket. It is a zipper jacket with fitted full sleeves and belted cuffs. There are studs on the left shoulder identifying spikes. It has two side pockets too.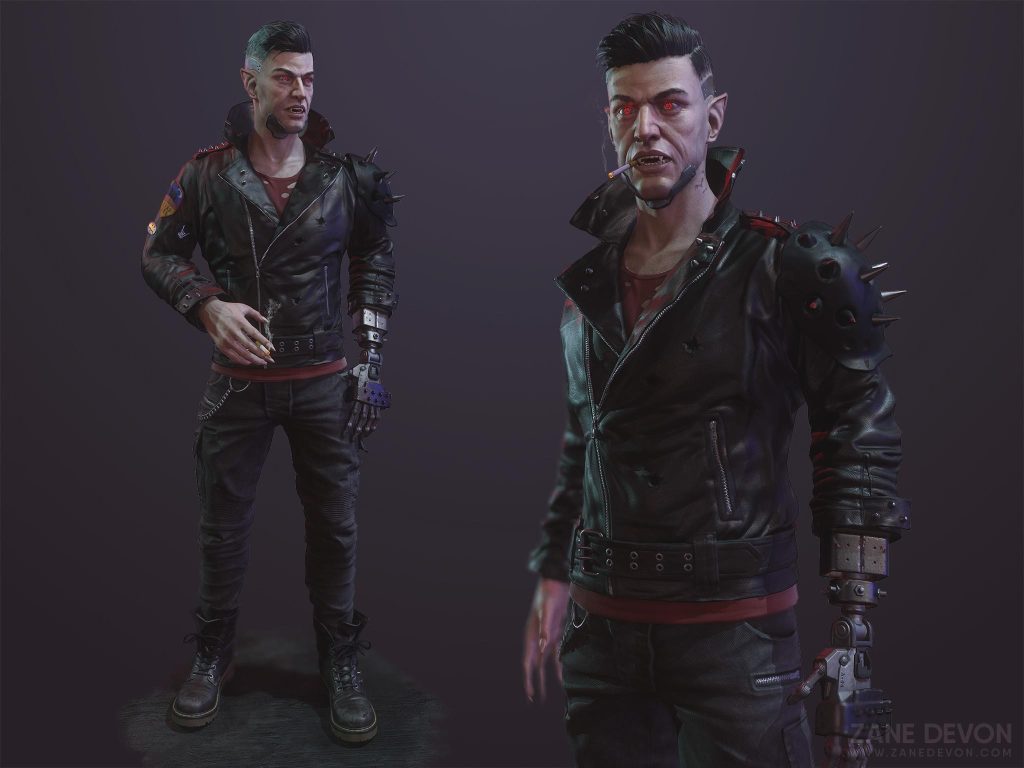 Wolf School Leather Jacket:
A brown leather jacket with a print of a wolf face at the back. It contains plate patterns on the arms side and padded shoulders. It has a buttoned front and a number of zips to put things in. The jacket has long sleeves. There is a samurai logo on the neck side as well.
Jackie Welles Jacket:
The combination of red and black looks amazing. This jacket has a standing-style collar with a zipper front closure. It is a full-sleeved jacket with rib knitted cuffs. Additionally, it has two side pockets and four circle patterns on the arm area.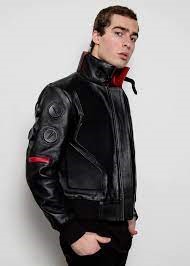 Night City Dreamer Leather Jacket:
A black and purple jacket with a skull logo at the back. A samurai tag is printed on the collar. It has a front-opened style with three-quarter sleeves and padded shoulders. The jacket gives a classy look.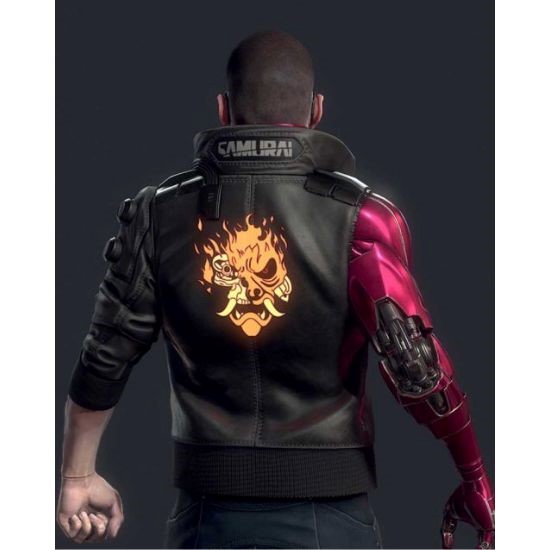 Johnny Silverhand Jacket:
It's a motorcycle jacket made up of leather. It contains a zipper front and a lot of pockets and zips. This upper has long fitted sleeves and a lapelled collar; there is a patch stitched on the chest side of it.
So these are some famous jackets of the Cyberpunk 2077 game. We are sure that one of them surely impresses you too.
Conclusion:
If you are not a fan of this game, then we are sure that now you are, after having a view of these stylish and classy jackets.
We have tried to cover all the possible looks for your ease, and we hope you got enough information about cyberpunk themes too. Because this is our future in the imagination of most people.
So tighten up your seat belt because we are heading toward the future, and grab one of these jackets too.
And if you haven't played this game yet, try it. Maybe you become one of the gamer fans.