The wait is finally over for all the Marvel comics' fans since the most awaited sequel to Thor: Ragnarok is out soon. We have been waiting for this for quite a long time now. Since 2017, we suppose… anyhow, now that the movie is all set to make people drop their jaws all over again, we couldn't be happier than this.
About the movie
Moving on, Thor's love and thunder is an American action film that is based on our favorite character from marvel comics aka Thor. The movie is directed and pen downed by Taika Watiti. On the other hand, the official producer of the movie is Marvel Studio whereas, it has been distributed by Walt Disney Studios Motion Pictures.
About the cast
Apart from Chris Hemsworth, you are expected to see Natalie Portman alongside Christian Bale, Tessa Thompson, Jaimie Alexander, Watiti, and Russell Crowe. Everything about the movie is exceptional from the star cast to the script, and cinematography — you are not going to regret your decision of watching it with your friends and family. Oh, and did we talk about Thor's spectacular wardrobe? Well, everyone had a word on its costume, we thought, this is something every Marvel fan should do, right? Especially the one who loves Thor because why not?
Thor — Costume Guide
Hence, we have decided to present to you this exclusive Thor costume guide! Leave everything you are doing right now and pay attention to this piece of writing. Because we assure you that you wouldn't want to miss this one!
Thor Love Thunder Leather Hoodie Jacket
Since people are having a hard time separating Chris Hemsworth from his fictional character because of his continuous transformation. As you can see in the trailer of the movie, initially he is just a fat guy who could lift his hammer. Do you think that can be a reason why he is unable to do that? Well, in the next clip you see him all fit and fine just like they say; fine like an old wine. That's where thor love thunder hoodie comes.
However, there are many ways this leather hoodie jacket can be styled but if you want it just like Thor then we'd suggest, following the guide.
Black Plain T-shirt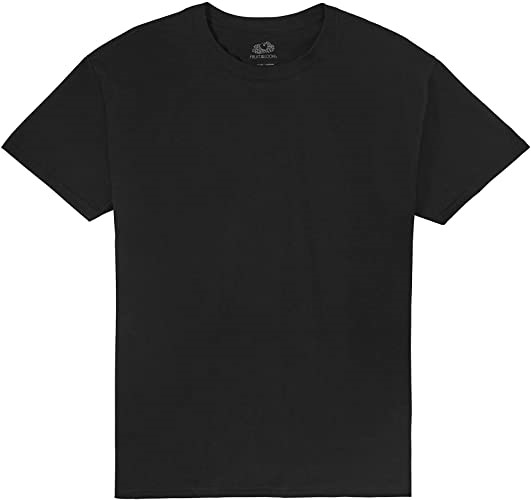 The first thing you need is a plain black tee. You can get it from anywhere, expensive or cheap, that is your call. Well, we recommend keeping it simple because the main attire is your hoodie. Your t-shirt needs to be black and plain so that Thor's hoodie can get the actual limelight.
Maroon Zippered Hoodie
Now that you have picked your inner, it's time to work on your outerwear, which, supposedly is the main thing. Say Hello to the maroon zippered hoodie. You might think that this is just another typical hoodie and only because Thor wore it, did it become popular — well, you are right. It's not the attire but the person who carries makes it worth. Anyways, bring your tee to the table along with this maroon zippered hoodie. And prepare for the next step. The bottoms!
Plain Black Denim Jeans
We don't need anything extra here, just like we chose a plain t-shirt, you need plain black denim jeans for the bottoms. Remember, you have to make the hoodie prominent and the rest is just to complete the look. Check the boxes of you are done. Plain black t-shirt along with black denim jeans, and the hoodie.
Black leather shoes
Time to talk about shoes because the look would be quite absurd if you walk into any cosplay barefoot, no? So how about a pair of black leather shoes? Everyone loves those and besides, and this is the demand of Thor's character. You don't have to spend much on the other three things but here you might have to loosen your wallet because leather shoes aren't that cheap. And if you want to compliment your costume then you must get an exquisite pair of black leather shoes!
And there you go with your first look. All set to make a great impression and turn heads in your direction!
Thor Red Studded Leather Vest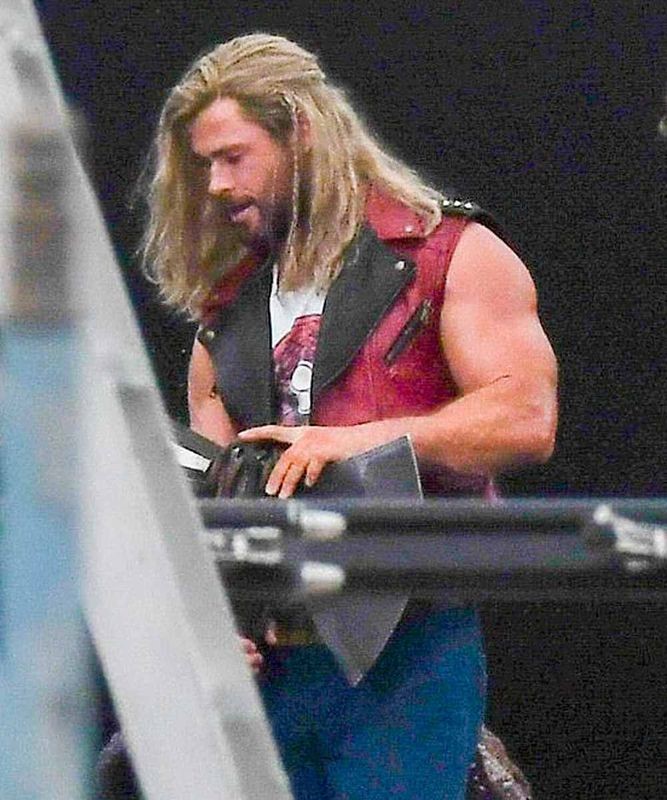 We all know who Thor is and why everyone loves the character. Well, the reason why it has a huge fan base is because of being a former Asgard king. He is Ordin's son and Loki's half-brother.
But let's leave that debate for some other time and talk about Thor red studded leather vest. Because that's what should be our priority right now. Thor can be seen wearing this studded leather vest almost throughout the movie, hence that's our next pick. This red vest did not only make Chris look stylish but also classy and handsome. This has become sort of a signature look for Thor and whenever someone talks about it, you imagine Thor in this red studded vest. The following vest will go on the top just like outerwear. Therefore, leave it for the last.
Plain white T-shirt
Starting with the inner which is a white plain tee. However, you can wear any tee as we have suggested for the previous costume. But if you pay a close attention to the actual attire, Chris had a printed t-shirt on. Whether it's plain or printed, in both cases, you are going to create an exceptional look just like our Marvel hero Thor!
Blue jeans
This time, you'll be needing pants different than the last one. It has to be blue jeans, you can go for denim or any other pair of pants. Relax, you don't need to go over the board for this one. Just like Chris Paired his studded vest with white tee and blue jeans, follow him for impeccable results.
Black leather shoes
The good thing about creating this guide is that you can use one thing for several times. Just like you black leather boots or shoes, whatever you'd like to call them. Anyways, you can use those black leather shoes with almost every attire even if it doesn't belong to Marvel Franchise.
Thor blond wig and beard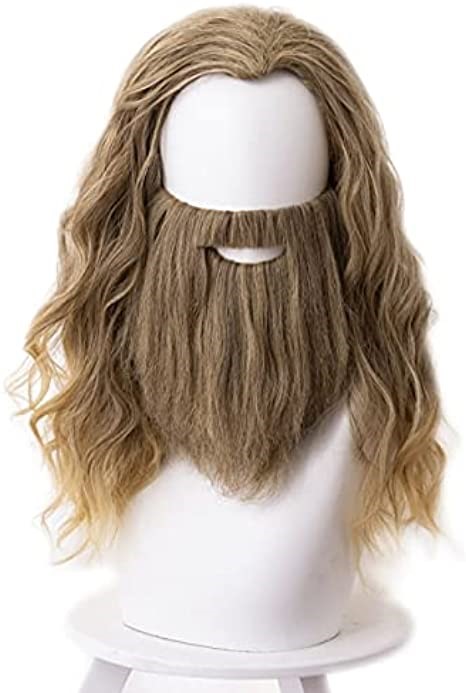 If you think that blonde wig and beard is what makes Thor "The Thor" then you are undoubtedly correct! So how about you putting on a blond wig and beard to give people something to talk about? You can get the exact same wig from any store and bam! You have got all the essential ingredients to make present yourself as a Thor. Not the original one though.
Storm breaker Thor weapon
Oh wait, did we talk about storm breaker? Well, this is another important thing in order to complete the look with studded vest. You might be wondering what's the big deal anyway… well, without his weapon he is just an ordinary human. These weapons make them powerful superhuman. So better keep it with you whenever you try to put on this costume.
Conclusion
Back in 2017 when Thor: Ragnarok came out, even the people who aren't a fan of the Marvel franchise – liked the movie. And the reason wasn't just the Chris Hemsworth but also its character Thor, which he played tremendously. We grew up reading those comics and now that we see our favorite marvel characters on the big screen makes our hearts warm. And we couldn't help but try to disguise ourselves into one of them.