Roll over image to zoom in
Click to open expanded view
Snoop Dogg Bandana Tracksuit
$104.00 – $109.00 (-64%)
Product Specifications:
External Material: Cotton Polyester
Internal Material: Viscose Lining
Collar: Round neck Collar
Cuffs: Rib-Knitted Cuffs
Color: Blue
Trousers:
External Material: Cotton Polyester
Hems: Round Hems
Pockets: Two Side Pockets
Snoop Dogg Blue Bandana Tracksuit
The game was tough and everyone was glued to their TVs to see who is going to lift the trophy tonight. While many of us were sitting at our home regretting why did not we get a chance to be at the stadium, great rappers in the history of hip hop were there performing their best and enjoying each moment. And not just them but the crowd too.
But do you know who enjoyed to bits? We wanted to say LA Rams but unfortunately, it wasn't them. It was Calvin aka Snoop Dogg! Yes, you got that right. We don't think, anyone got more attention than him and his blue bandana tracksuit. We also have a black bandana tracksuit.
Where was the Stadium? 
The final game was played at SoFi Stadium located at 1001 Stadium Dr, Inglewood, CA on Sunday, February 13, 2022. This is also a home stadium for LA Rams.
All the beloved Celebrities 
All the celebrities were present at the event. You name it and we have it. Dwayne? Check. Drake? Check. Zedd? Check. Jay Z? Check. So you can call it star-struck.
The halftime show 
It couldn't be better than that. Everything from crazy outfits to outstanding performances. Each thing was on point and we loved it. These performances were done by our favorite Eminem, Dr. Dre, Kendrick, and Snoop Dogg.
Snoop Dogg and his tracksuit 
Aside from the fact that it was an event to remember, there was something else that people remembered too. And that is Snoop Dogg's blue bandana tracksuit. It is currently the talk of the town and everyone is admiring how Calvin aka Snoop carried this look. For them, it is quite a move when the whole dress code shows your connection to a street gang. Well, that's the inspiration behind his bandana because he was once a part of that gang. His wife wears the same blue bandana tracksuit at the superbowl.
Anyways, the following tracksuit is composed of cotton fleece exterior and has a soft viscose inwards. Its rib-knitted collar, waistline, and cuff show how ordinary but perfect stitching it has. Moreover, it has a pull-over closure style and the color combination speaks for itself.
Whereas the blue trousers have been fabricated with the same material with a rib-knitted hemline and two side pockets.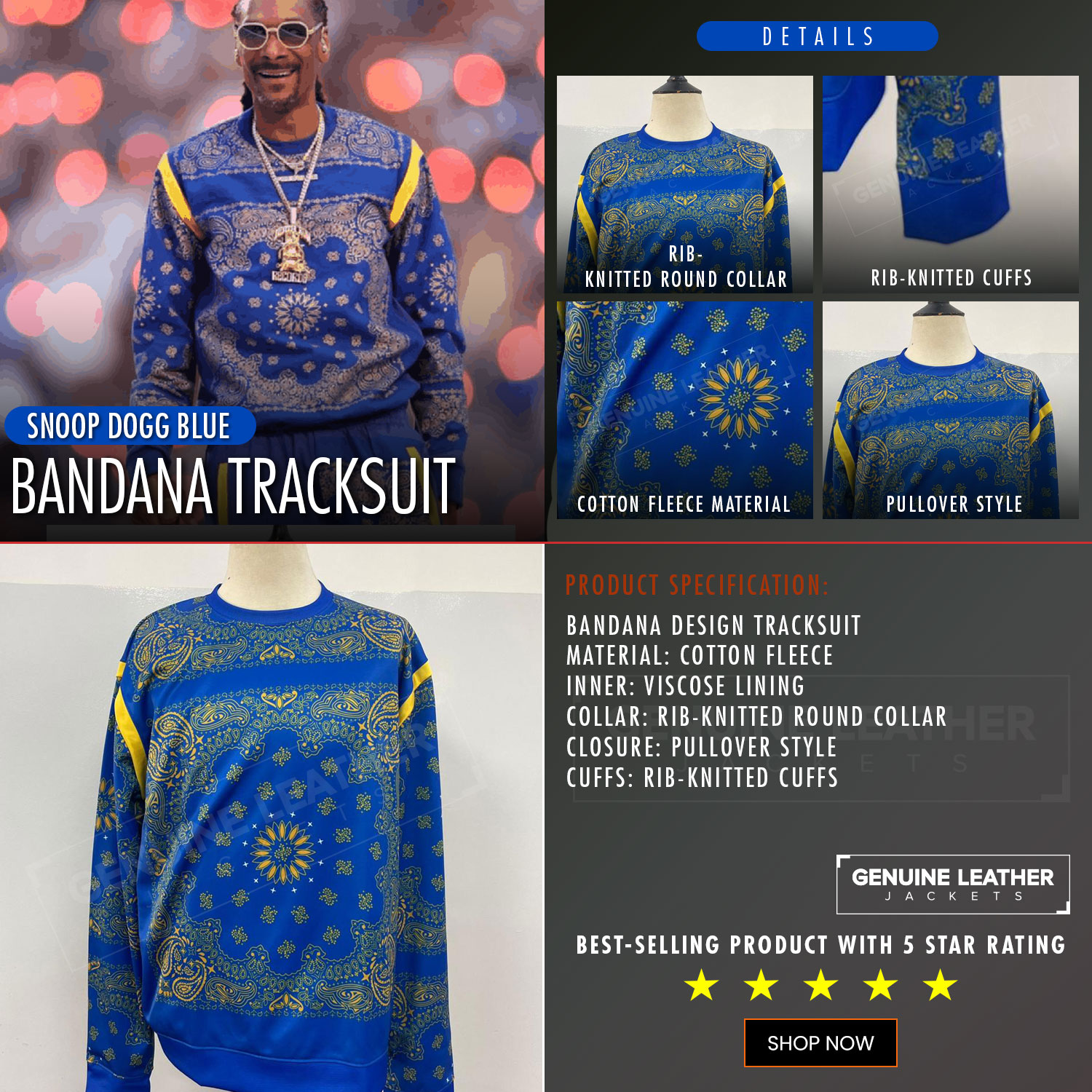 Additional information
| | |
| --- | --- |
| Size | XS, S, M, L, XL, XXL, XXXL |
| Waist | Waist 28", Waist 30", Waist 32", Waist 34", Waist 36", Waist 38", Waist 40", Waist 42", Waist 46" |
| Gender | Female, Male |
| Trouser | For 32, For 34, For 36, For 38, For 40, For 42, For 44, For 46, For 48, With Trouser, Without Trouser |